Connecticut Boys Academic 50 ID Camp (Summer 2017)
The "Academic 50" event features 50 college coaches from top programs around the country. Use the menus below to learn more.
The "Academic 50" event features 50 college coaches from top programs around the country. Use the left side menus to learn more.
Heads-up! Select from menu options on the left to learn more about camp!
Event Registration & Details
Unfortunately, registration for this event has been closed. Below is a list of additional events nearby that you can still register for.
Events are loading. Just a few more seconds please!
Gender
State
Event Name
Start Date
Duration
Register Info
Boys
NJ

Northeast (Waldwick, NJ)
Gender: Boys State: NJ
Sun, February 18th 2018
1.4375 Day
RegisterLearn More
Boys
ON

Toronto (ON, CA)
Gender: Boys State: ON
Mon, March 12th 2018
2.4375 Day
RegisterLearn More
Boys
CT
Northeast Boys Academic 50 ID Camp (North Branford, CT)
Gender: Boys State: CT
Tue, July 24th 2018
3.2708333333333 Day
RegisterLearn More
Boys
MA
New England III (Hanover, MA)
Gender: Boys State: MA
Mon, February 19th 2018
1.4375 Day
RegisterLearn More
Boys
GA
Southeast Boys Academic 50 ID Camp (Atlanta, GA)
Gender: Boys State: GA
Fri, July 6th 2018
3.2708333333333 Day
RegisterLearn More
Boys
IL
Midwest Boys Academic 50 ID Camp (Chicago, IL)
Gender: Boys State: IL
Tue, July 31st 2018
3.2708333333333 Day
RegisterLearn More
Connecticut Boys Academic 50 ID Camp
Who:
Upperclassmen
(Grades 11th-12th)
Underclassmen
(Grades 8th-10th)
Where:
Connecticut Sportsplex
150 Foxon Rd, North Branford, CT 06471, USA
Google Map View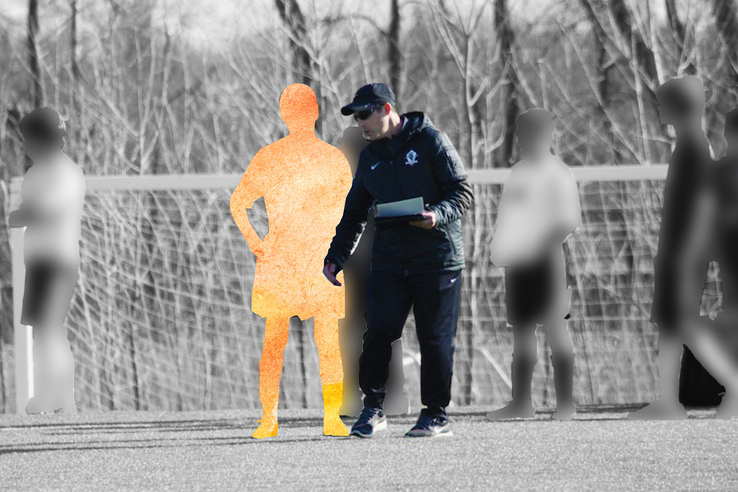 College Coaching
Players are coached on the field by college coaches during morning and afternoon sessions.
Exposure to different coaches is maximized as players train with a variety of coaches throughout camp.
One-on-one interaction between players and coaches is emphasized (on-field training, in the classroom, and even at lunch).
Each player receives a 1-on-1 evaluation from a college coach at the conclusion of camp.
College Mentor
College coaches serve as your mentor to guide you in your soccer and personal development.
Each player will have 1-on-1 meetings to review an honest evaluation. Players will get specific feedback on strengths and areas for improvement.
Evaluations are honest and meant to prepare players for the next level. Interaction and asking questions is encouraged.
Training & Gameplay
Players will participate in both college-style training sessions and tournament-style gameplay at camp.
Training sessions are in small groups led by college coaches. Coaches put players through the same sessions as their college freshmen.
Players will be assigned to teams for tournament-style gameplay. Teams will be coached by college coaches.
Used by Pros
EXACT's mental training tools are used by over 150 colleges, the U.S. Soccer National Teams, and more than 60 professional teams, some of whom have won the World Series, Stanley Cup, and MLS Cup.
The same mental training tools are incorporated into the camp experience to give players a unique mental edge in their development.
Mental Techniques
You will learn techniques to help you maximize your potential and play at their best, now and on the next level.
Topics covered will include preparing for high pressure in-game situations, battling through adversity, leadership in a team, and much more.
Collegiate Attitude
Mental toughness defines the top players in any sport and college coaches want players that have it.
We train players to have the mental toughness to have a successful transition to the next level.
---
The #GoMental Movement
By starting the #GoMental movement, EXACT has enabled thousands of current collegiate, professional, and aspiring high school athletes to reach their performance goals. We hope you'll join us so that you can reach your own desired destination.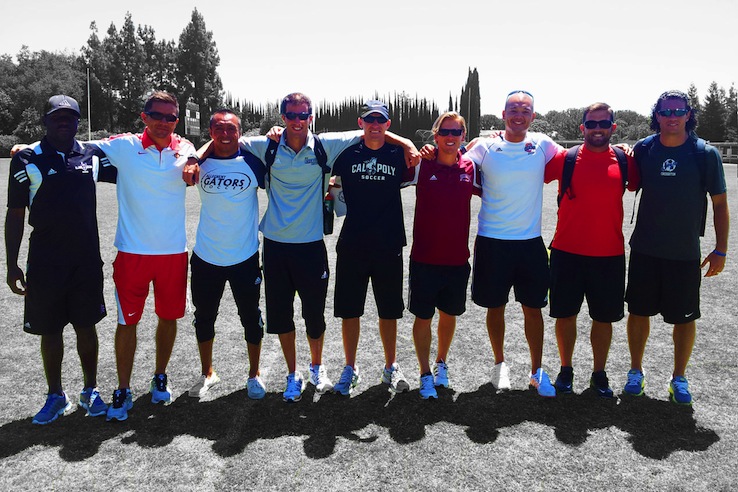 College Recruiting Seminar
Learn how the college recruiting process really works directly from college coaches.
Players will learn specifics on exactly how to navigate the process and get recruited by desired schools.
Coaches will discuss what they look for in a player, college scholarships, differences between DI, DII, DIII, NAIA, recruiting sites, and much more.
Finding the Right "Fit"
Finding the right "fit" in a college is crucial to success on and off the field.
Coaches will share how academics, culture of a school, location, and more fit into the college decision.
Players will also participate in sessions that focus on identifying what they are looking for in a college experience.
Parents & Players Welcome
Parents are welcome to the College Recruiting Seminar.
Both players and parents are encouraged to ask questions about anything related to the college recruiting process!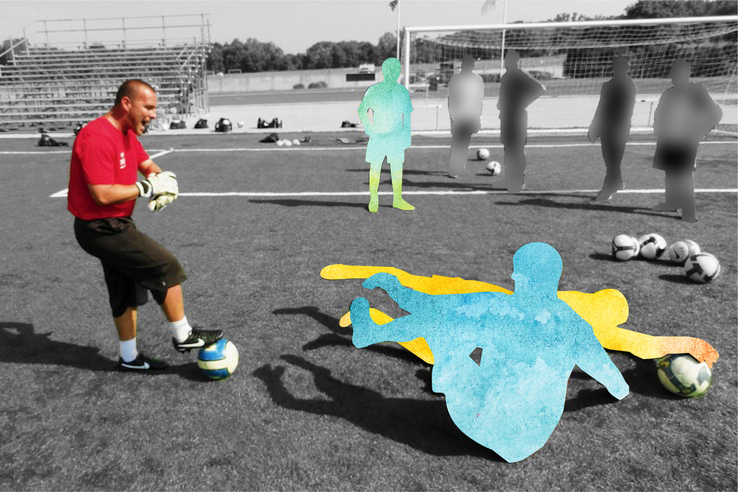 Individualized Instruction
All GKs participate in individual keeper-specific training led by a college GK coach.
Training will focus on all GK skills including footwork, shot stopping, crossing and more.
GKs will get a 1-on-1 evaluation from a college GK coach.
College Coaches
EXACT brings in the top college GK coaches in the country to train 1-on-1 with GKs at camp.
The College GK coach will put players through the same training used with their college teams.
In addition to individual training, GKs will have a chance to play in front of ALL college coaches at camp during games.
In-Game Action
In addition to individual training, GKs also face live action during games.
GKs will have a chance to apply work from training in game situations versus other players.
During games, GKs will have a chance to get exposure to ALL college coaches at camp.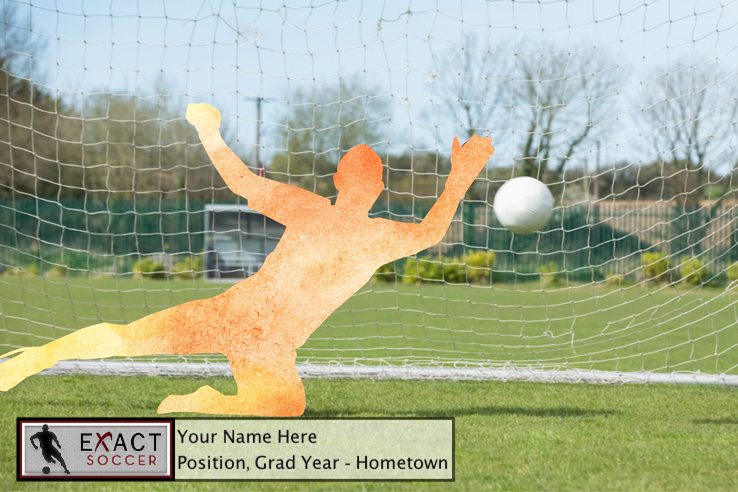 Video Overview
Add a professionally filmed and edited online video to your camp experience.
Your video will be edited after camp and delivered on a personalized Highlight Video webpage.
Pre-Order your video during camp registration to save.
Personalized For You
Your Highlight Video is personalized to include your information throughout the video.
This makes it ideal for sharing with coaches, friends, and family, so they know who they are watching
Designed for Sharing
Our video program was designed based on feedback from college coaches.
Highlights are captured during your workouts at camp and edited to show you at your best.
College coaches lead training sessions to ensure quality in each session.
*Pre-order your Goalkeeper Video during registration for 195 (35% savings)
The Most Successful Camp in the Nation
The Best College Programs in the USA
An Unparalleled Showcasing
Recruiting Info and 1-on-1 Evaluations
Designated Time Slot(s):
07/24/2017 [Monday]
07/25/2017 [Tuesday]
07/26/2017 [Wednesday]

Lodging

Traveling far to get to EXACT? Campers have the option to participate in the residential, overnight program. Typically, 20-40% of campers participate in this optional program. Those interested in lodging can add on during registration. Campers stay in EXACT-supervised accommodations with 1-3 fellow participating players. Friendship requests can be made to director@exactsports.com. Included in the EXACT residency option are two nights lodging, dinners, breakfasts and shuttle between the camp game fields and the overnight accommodations (plus all the fun you can handle!).
If You Drive

Silverlakes Sports Complex, 5555 Hamner Ave, Norco, CA 92880 View in Google Map

In addition to a GPS location, we provide specific directions to all participants in pre-camp materials so you know exactly where to go and when to be there!
If You Fly

The following airport options are most convenient for the event location:
Ontario International Airport ( ONT ) - 20 Mins
John Wayne Airport ( SNA ) - 45 Mins
Los Angeles International Airport ( LAX ) - 60 Mins
If you are flying home after camp, we recommend booking a flight at 8pm or later if possible. EXACT will not be able to provide rides to and from the airport.
Athletes Traveling Alone

Players are welcome to travel to the EXACT ID Camp without an accompanying family member (though most do arrive with family). Players will have the option to get on the EXACT airport shuttle which will take the athlete from airport to camp (and back to airport after camp ends). Make sure to book your flight to arrive in the airport by 11am and have your departing flight leave after 8pm.
I just want to thank all members of EXACT Sports for orchestrating the Academic 50 ID Camp.  I can honestly say we were WOWed! We appreciate the "extra" step your staff took with the players, as well as the parents.  The camp was done in such a way that the campers had a great time and learned so much.
Kaden is our 4th child looking to play at the next level.  We have sent our children all over the United States to all types of athletic camps (mostly soccer), and I cannot tell you the amount of time, energy and money we have spent.  I can honestly say, this was by FAR, the best experience in our twenty year span of athletic camps (obviously we have been through this rodeo before)! Kaden is following your advice, the coach's advice, and we appreciated the feedback.  You opened several opportunities for him.  We cannot thank you enough!
Again, excellent job my friends!  Thank you for all the kindness you showed Kaden!
– Marianne Marshall mother of Kaden Marshall
Jason O'Keefe
Head Coach
Appalachian State University
As a college coach I really enjoy getting the opportunity to work closely with the players and learn more about them as individuals. Players get exposure to so many different things through the EXACT camp such as variety of coaching styles, different levels of programs as well as the mental training side which is critical to their development. I would recommend these camps as a perfect way to get better at soccer, get exposure to many college coaches and develop a mental program which will help them achieve all their goals.
Just a quick note to thank you all for the work you put into the EXACT Academic 50 ID Camp this past summer. We traveled far to be there and appreciated your efforts to help us get sorted. Gus is super enthused about attending college in the States and your program really helped him to develop both a greater understanding of what that means, as well as confidence in doing so.
Today we flew back home, and just wanted to express our gratitude towards your staff and your camp. The final brilliant touch of the weekend was allowing us to ride to the airport with the coaches- we were car-less and your generous offer saved us hours of public transport train travel
The EXACT Connecticut Academic 50 ID Camp opened me up to a different side of the game; the psychological side. The mental training sessions was eye opening and is what separated this camp from the rest. This camp also excelled in exposure to college coaches, there was over 50 in attendance! Often times campers were forced to interact with a college coach at the camp whether it be introducing yourself to them, eating lunch with them, or training with them. This allowed for meaningful, real feedback from a college coach who trained you. EXACT sports camps came be a fun learning experience for anyone regardless of background, playing level or personality. This camp is designed for the player to step outside his/her comfort zone and express themselves both on and off the field.
– Will Baltrus
I enjoyed the intensity of the EXACT Academic 50 ID Camp. Unlike some other soccer camps, EXACT does not waste time on anything. The soccer is very strong, the coaches are engaged, and the seminars are the best of any soccer camp in the country. I went to another elite level ID camp earlier this summer and although the soccer was strong there was not nearly enough for the amount of time spent there. The seminars were also very weak. EXACT also gives you the opportunity to showcase in front of all 50 coaches in attendance. At the other elite level ID camp I attended you only had a chance to play in front of a third of the coaches in attendance. The EXACT camp also gives you ample time to talk to coaches who you want to look at you during lunch and in between sessions. For a goalkeeper, it is an especially strong camp because you have some solid coaching and you have a separate showcase for all the coaches in attendance, which is rare for a camp. If you buy in to the EXACT system it is one of the best ways to get seen.
– Michael Wright
The EXACT SoCal Academic 50 ID Camp was a great experience with just playing soccer and getting to meet coaches from all around the nation, there was over 50 in attendance! The staff at camp seemed to care a tremendous amount about the success of each player. The EXACT camp was well run and organized, by far the best I've ever attended!
-Raya Cheng
When will confirmed coaches be announced? 

We are in the process of selecting and confirming coaches now. The confirmed list will be added to the website in the next couple weeks.

This event will feature 50 confirmed coaches from some of top academic institutions both regionally and nationally. EXACT has the largest college network in the country, as over 1,000 college coaches from top DI, DII, DIII, and NAIA programs around the country have participated in EXACT's events. Our goal is give athletes maximum exposure to a broad range of college soccer options.

You can view the coaches we had at last year's Academic 50 events in this region on the website at 

EXACT Soccer Website

. Those coaches are listed under the "Last Year's Academic 50 Staff" tab.
Is there training for Goalkeepers?

Yes – the EXACT Soccer ID Camp coaching staff always includes college goalkeeper coaches. Each day, goalkeepers will participate in keeper-specific sessions that are designed and led by college goalkeeper coaches.
How can I sign up for the Goalkeeper Video Program?

We offer a Video Program is an add-on available for purchase by goalkeepers attending an EXACT ID Camp. Purchase can be made during registration (at a significantly discounted pre-order rate) or at camp (at full price). Details about the video can be found under the sidebar "Goalkeeper ID Camp + Video Program".
Will players have an opportunity to get feedback from college coaches on the coaching staff?

YES! Players begin interacting with college coaches from the moment they arrive at camp. One-on-one interaction is emphasized, as college coaches lead all training and game sessions. There is opportunity for feedback during training sessions, gameplay, lunch, and post camp. Each player will also meet 1-on-1 with a college coach for a formal evaluation at the conclusion of camp.
Can parents watch?

Parents are more than welcome to attend any of the sessions throughout the day. This includes, training, afternoon game-play, and informational meetings (parent meeting and recruiting informational session).
Is there a trainer on-site at camp?

Yes – there is a Certified Athletic Trainer on-site at all times.
What is EXACT's Cancellation Policy?

Because our camps have a limited capacity, we cannot offer refunds to campers who cancel for any reason. However, during registration you may purchase "No Questions Asked" (NQA) cancellation insurance that will allow you to receive a refund in the event that you are unable to attend the camp.

For those that do not purchase NQA cancellation insurance, we are only able to offer you a transfer of your registration fee less a credit transfer fee to cover EXACT's incurred event costs. Transfer fee is 20% (when notified 14+ days out) or 35% (when notified 1-14 days out from camp). The credit will be stored on your account in PrepHero (EXACT's Registration partner) and can be applied to any open EXACT camp within 12 months. There is no credit provided to no-shows at the camp, so please notify us early!

If you are already registered and need to cancel, please go to https://prephero.com/camps/cancel and login using the account created during registration. Click here to learn about our weather policy. For additional information email director@exactsports.com.
Is this an open enrollment camp?

Yes, all EXACT events are open enrollment, complying with NCAA bylaws, allowing any and all athletes to participate.  To read more about EXACT's approach to NCAA compliance and how we manage a positive training experience, click here: https://exactsports.com/ncaa-compliant/
Is the EXACT Camp compliant with NCAA rules and bylaws?

Yes, EXACT takes great care in ensuring compliance with NCAA rules, as college coaches are interacting and training with players on the field. In accordance with NCAA rules, EXACT camps are open to any and all that would like to attend, but may limit attendance based on several factors, such as age, number and grade level. however, camp attendance at EXACT is never restricted by a camper's skill level or competitive experience.

More information on NCAA compliance can be found here: https://exactsports.com/ncaa-compliant/
My question is not covered here. Is there someone I can speak to at EXACT Sports?

Yes, the best way to reach us is to email us at Director@exactsports.com. We aim to respond to all inquiries within 2 business days (but it is usually much quicker!).