Yesterday we discussed how the EXACT Sports Elite Prospect Camp has been rated compared to a traditional camp, a tournament, a showcase and a training regimen.
Part 1 – By the Numbers
Part 2 – What's Being Said: Hear the Uncensored Reviews of EXACT camps
Part 3 – Worth the Money
Enter The Nation's Largest Prospect Database
Connect with thousands of college coaches across the U.S. and get evaluated for collegiate athletics!
Here we continue explaining why every high school player should consider attending this sports camp for at least 15 reasons:
What's Being Said: Hear the Uncensored Reviews of EXACT camps:
5) From a player that has attended dozens of college camps, showcases and tournaments -- "I liked how the coaches actually cared about the camp."
6) Other players agree EXACT provides a superior experience.
Here are some more uncensored comments... we don't even fix the typos and spelling mistakes:
"The constant physical and mental alertness required both days of the camp definitely took a toll on me, regardless of the soreness and mental fatigue I exhibited by the end of the second day I rate this camp, as one who looks like at the big picture, as the best of many camps I have attended and in turn recommend this camp to any serious player. I enjoyed every aspect of this camp. There was never a static moment. Thanks!"
"It was a great experience having the opportunity to train with some of the top college coaches and having one on one conversations with them."
"I thought the camp was a blast. I learned so much about how the mental part of the game is just as important as the physical part."
"Great for all ages and level of players. Really gives you a taste of what College Athletics is like"
"Camp was a great experience. It allowed me to find a comfort zone at a college level and interact with real college coaches who gladly give advice."
"I had a great time at camp, the coaching staff was excellent and meeting head coaches was awesome."
"this camp helped me realize my strengths and weaknesses and i learned how to play my position i normally play better"
"This camp really does give you the opportunity to gain both physically and mentally as a player. Usually when players attend camps it's revolved all around the physical aspect, but this camp also challenges you mentally!"
"This camp will improve your mental game in all aspects"
7) From a parent that knows the player deserves better:
"Superb, hand selected, motivated coaching staff who took a personal interest in each and every player's individual learning and development. Of special interest, the inclusion of the parents in the background, philosophy and training techniques was vital to the success of camp. I would highly recommend this camp to anyone who wishes for their athlete son/daughter to have "the edge." Job well done, EXACT!"
8) All parents saw the benefits. Below are comments from parents of campers:
"My son was very pleased with the camp because he really felt as though everything he did had a reason for doing. He felt that the program made him think about his self more and his role as a player."
"I didn't have a chance to talk with any of the coaches, but from what I did see they did a fine job in training the boys."
"The Camp seemed well run, efficient. The psychology side was a new and welcome addition to a traditional camp."
"There are always thing that we "know" we just don't "know why." From my perspective, this camp displayed the fact that being mentally "trained" or prepared is possibly just as important for developing players. For those such as my son, who is a linear thinker, having logic applied to soccer through "sports science" makes things easier for him to understand and accept."
"Very in-depth program gives the player many angles to improve their game."
"Phenomenal, thorough mental/psychological approach with applications to a player's individual needs and characteristics; these analyses and tools apply not to sports alone, but to the player's daily life in school, community, church and family as well."
"Our son came out with a different outlook about how important the mental aspect of the game is. Definitely a very positive experience for him."
"I like the camp because at no time the players were idle on the field. Their time was used effectively."
"My son, as a goalie, usually finds practices somewhat mundane, as they are designed for field players. We go to Brian Jones at the St. Louis Goalkeeping Academy anyway, so there was not a huge impact for us from the coaching aspect, but it did make us realize how fortunate we are to have Brian as a resource available to us. Still, any further breakdown between field players and goalkeepers will only help validate the keepers and their value to the team. This camp was the best I have seen so far in trying to address the keepers specifically. Thanks!"
"For years I have tried to tell my children that their mental preparation and mind-set are an important, if not the most important part of their ability. Your camp told my son exactly that. It was good for him to hear it from someone other than his father as teens seem to think their parents don't know much. Thank you for your help."
"This is a great experience for both parents and players; definitely will suggest a follow up routine that player needs to do so he can achieve level to play college soccer. For example does he needs weights, speed, stamina, exercises , this will help a lot."
"As a parent of a high school athlete looking for something outside of the technical experience that can be easily obtained in various ways this weekend allowed us the opportunity to learn the other aspects to make a well rounded athlete and using college coaches in this processes only reaffirms to the students that this is an important factor to make it in college thanks again first time experience with this type of training."
9) College coaches had rave reviews working with the campers and future college athletes:
"I really enjoyed working with the Exact Camp. I have done quite a few camps, but none that emphasize and focus on the mental side of the game. The camp put some things in perspective for me, and I'm sure I will use some of these ideas in my future sessions. The players receive a great benefit from this camp. Most kids coming out of high school assume that the physical and technical part of the game are the only things that coaches look for, and never really train their mental components (Confidence, competitiveness, ability to dismiss mistake, etc). This camp gives the kids an opportunity to train the mental side of things while continuing to progress their technical and physical part of their game."
"The best thing about this camp is that it makes players aware of how important the metal aspect of the game is. The sooner players can train themselves mentally as well as the physical and technical aspects of the game, then they are already putting themselves a step ahead of others and in a position to succeed!"
"I believe the athletes were able to get a better understanding of what college coaches are looking for in players. A lot of these young men although play at high club levels, have not idea what it take to enter a good D1 college program. In most cases the psychological side of the game is what separates this high level youth player from the high level college player."
"I certainly enjoyed my weekend in Miami working the EXACT Elite Prospect Camp. The combination of working with other skilled coaches and the professional psychology component was excellent. Each young player in attendance received a personal soccer and psychological evaluation that will hopefully structure his own personal development for the future. I hope to be invited to another Elite Prospect Camp!"
"As a coach, I enjoyed the freedom to work with the players on areas we felt important but also identify how it relates to classroom sessions. So often, coaches complain about the mentality of players at a older youth level but it's an area that is often not addressed by coaches themselves. Coaches need to address how a players approaches the game mentally and I feel the camp encourages players to do that. Players learn how to prepare for not just games, but more importantly practice. I also enjoyed the high quality of coaches I was working with. I felt the discussion with groups based on their position (forwards, defenders etc), was very informative and well worthwhile. I also like the idea of the player individually interacting with the coach and asking questions."
"I enjoy coaching new faces and watching players improve over the course of a camp. I would certainly recommend players attend any EXACT Elite Prospect Camp they can. Not only do they get coached by some of the best coaches in College football but they also get to learn the mental aspect that defines a great football player."
"EXACT Elite Prospect Camps are groundbreaking in an area that no other camp in this country has put much, if any, emphasis in. As a former professional player, I understand how important of a part mental training plays in attaining peak performance and I would recommend this camp to any player who is aspires to attain an elite status. Players are given the tools to begin understanding how important this aspect of the game is and how to appropriately use those tools on a daily basis where results can start to be seen immediately. I felt like the session on "flow" or "zone" and how to purposefully attain that state of being was fantastic in terms of it's information and usefulness."
Become a College-Ready Athlete
EXACT Sports is has helped more athletes transition to college athletics than any other camp. Click below to view the schedule of events near you: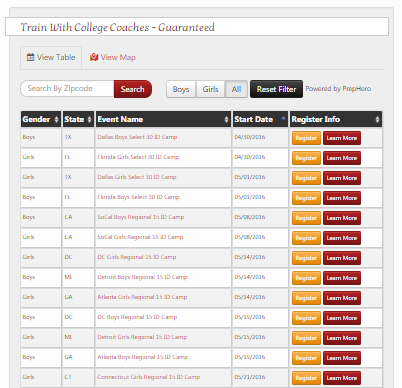 If you'd like to receive future training guidance (for any sport) or early access & discounts to upcoming events, please subscribe to our mailing list:
Or, read the next in this series, "Worth the Money"