Dallas Pre-Varsity Academy (Winter 2017)
The Pre-Varsity Leadership Academy teaches 5th - 8th grade players essential skills for success, on and off the soccer field, in a fun environment. See details below.
Heads-up! Select from menu options on the left to learn more about camp!
Event Registration & Details
When:
Dec 16 [ 9:00AM - 12:00PM ]
Coaches:
College Coaches Instructing
Select A Clinic
Select An Available Position


Over 1000 different college coaches have attended EXACT's events. See below for just a few of the coaches that attended recent events in this region.
See More Coaches
Development for 5th - 8th Grade Soccer Players
The Pre-Varsity Leadership Academy teaches young players essential skills for success, on and off the soccer field. Curriculum includes technical training led by professional coaches, fun competitions, and mental performance training.
Build Motivation
EXACT training increased youth's internal motivation by an impressive 20.3%
Confidence Booster
EXACT campers experienced a 10.1% increase in confidence after attending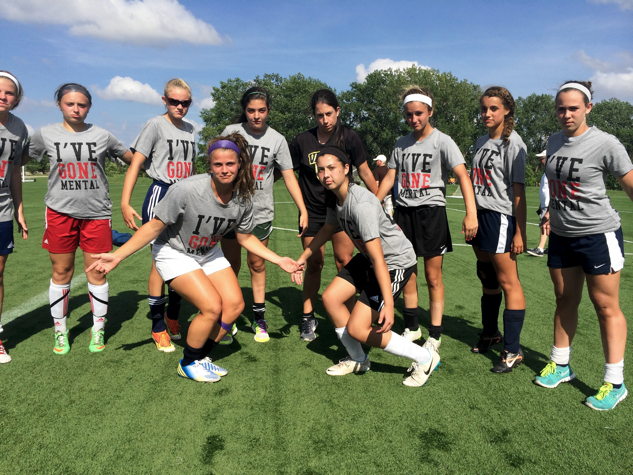 Make New Friends
Players are grouped in team environments with players in their age group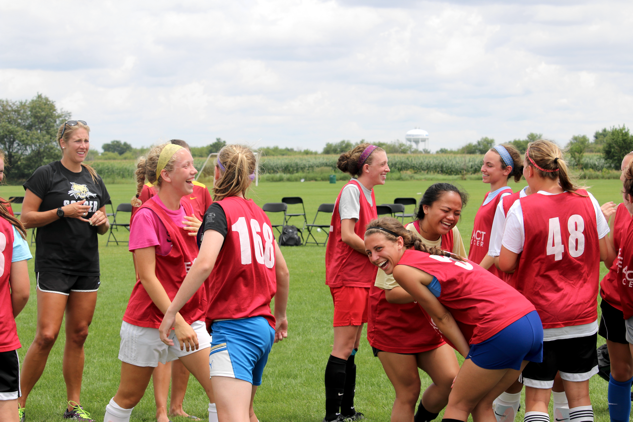 Have Fun!
Our coaches emphasize a FUN training & learning environment!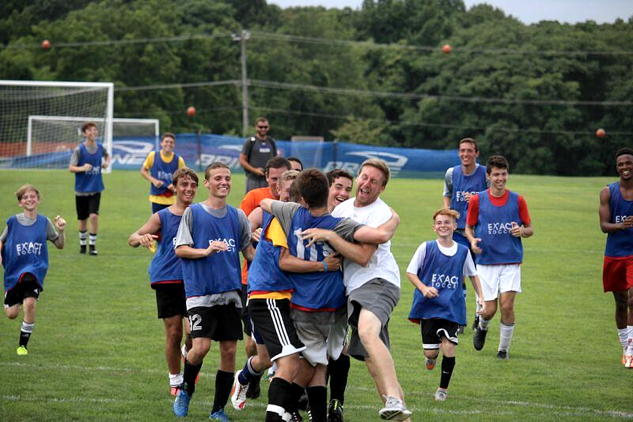 Soccer Training Meets Mental Skills
EXACT Sports is a leader in mental performance training. Players learn essential mental training skills used with US Soccer and hundreds of college and professional teams around the United States.

We don't neglect our goalkeepers! GKs participate in a position-specific skills session in addition to games and activities with the rest of camp!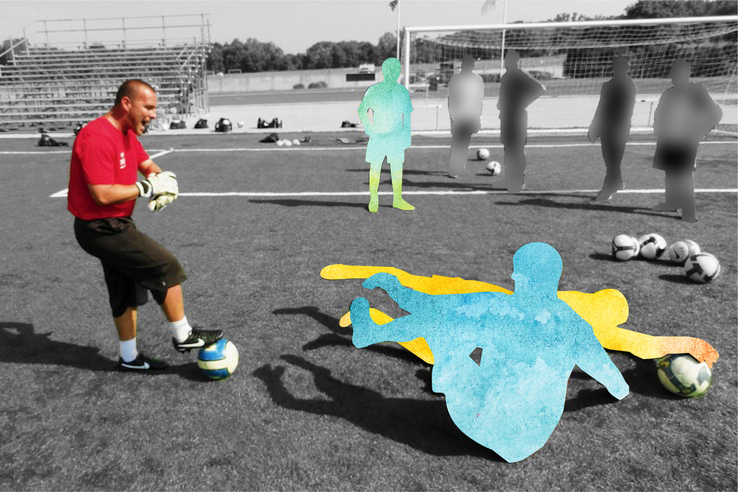 Technical Training
Position-specific technical training is included for goalkeepers.
Training focuses on core GK skills including footwork, shot stopping, crossing and more.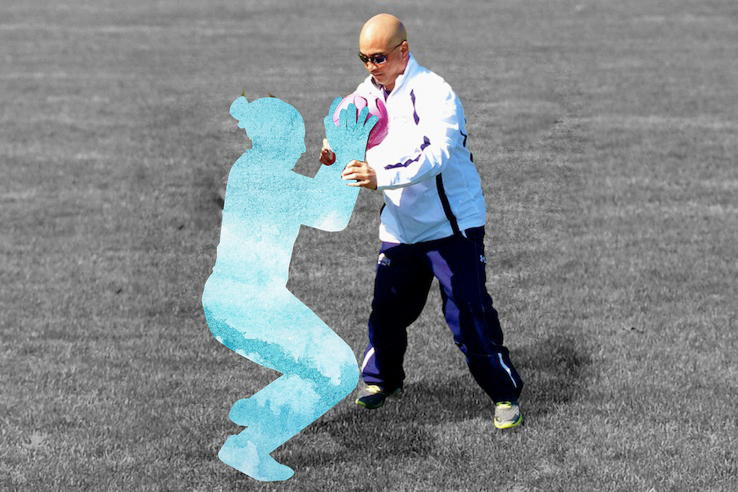 What You'll Learn
Training includes a core foundation of fundamentals to advanced skills and is geared toward each player's ability.
Goalkeepers also participate in games and activities with the rest of camp.
Experience the EXACT Pre-Varsity Academy
Real College Interaction (w/ sound)
The Most Successful Camp in the Nation
The Best College Programs in the USA
An Unparalleled Showcasing
Recruiting Info and 1-on-1 Evaluations
Dear EXACT,
I wanted to take the opportunity to just quickly thank you for for offering the pre varsity camp yesterday in Livermore. Tyler enjoyed the very professional and proficient 3 hour class.
We are glad we attended!
Sincerely,
Jurgen & Tyler Rott
Matthew's mom Renee provided the following feedback.
My son was on the younger end of the Exact Soccer demographic, nonetheless, he gained valuable experience, knowledge and confidence through this 1 day camp. He took the knowledge he obtained and used to gain himself visibility to his High School and Club Coaches. The good news is that he was offered roster spots on several clubs -AND- was offered a roster spot on his High School team. Of course, some of this is based on skill but I am certain that no kid going into his Freshman year went in with the confidence that he had to approach the coach directly in an effort to make himself known and make a lasting impression above and beyond his technical skills.
When will confirmed coaches be announced?

We are in the process of selecting and confirming coaches now. The confirmed list will be added to the website in the next couple weeks.

This event will feature coaches from some of the top regional institutions. EXACT has the largest college network in the country, as over 1,000 college coaches from top DI, DII, DIII, and NAIA programs around the country have participated in EXACT's events. Our goal is give athletes maximum exposure to a broad range of college soccer options.

You can see the coaches we had at our most recent events in the region on this event page by selecting the "EXACT's College Network" tab which is the second option on the left-side menu on the event page.
When will a facility be confirmed?

We are finalizing details with a top notch soccer facility in this region. As soon as the host site is confirmed, it will be posted to this event page.
Are all college coaches listed on the coaching staff actually going to be there?

Yes - EXACT Sports hires all coaches to be on the field instructing and evaluating athletes throughout camp. All coaches listed on the coaching staff are confirmed to participate, instruct, evaluate and get to personally know the players.
Is there training for Goalkeepers?

Yes – the EXACT Soccer Exposure Camp coaching staff always includes college goalkeeper coaches. Goalkeepers will participate in keeper-specific sessions that are designed and led by college goalkeeper coaches.
Is there a trainer on-site at camp?

Yes – there is an Athletic Trainer on-site during all gameplay & training. Your well-being is a priority!
What do players need to bring to camp?

Soccer equipment to bring includes soccer clothes, cleats, shin guards, ball, water bottle, socks, goalkeeper gloves*, and GYM SHOES/FLATS.
Can parents watch?

Parents are more than welcome to attend any of the sessions throughout the day. This includes, training, afternoon game-play, and informational meetings (parent meeting and recruiting informational session).
What is EXACT's Cancellation Policy?

Because our camps have a limited capacity, we cannot offer refunds to campers who cancel for any reason. However, during registration you may purchase "No Questions Asked" (NQA) cancellation insurance that will allow you to receive a refund in the event that you are unable to attend the camp. For those that do not purchase NQA cancellation insurance, we are only able to offer you a transfer of your registration fee less a credit transfer fee to cover EXACT's incurred event costs. Transfer fee is 20% (when notified 14+ days out) or 35% (when notified 1-14 days out from camp). The credit will be stored on your account in PrepHero (EXACT's Registration partner) and can be applied to any open EXACT camp within 12 months. There is no credit provided to no-shows at the camp, so please notify us early! If you are already registered and need to cancel, please go to https://prephero.com/camps/cancel and login using the account created during registration. Click here to learn about our weather policy. For additional information email director@exactsports.com.
NCAA Compliance

Yes, EXACT takes great care in ensuring compliance with NCAA rules, as college coaches are interacting and training with players on the field. In accordance with NCAA rules, EXACT camps are open to any and all that would like to attend, but may limit attendance based on several factors, such as age, number and grade level. however, camp attendance at EXACT is never restricted by a camper's skill level or competitive experience. More information on NCAA compliance can be found here: https://exactsports.com/ncaa-compliant/
Open Enrollment Camp (NCAA)

Yes, all EXACT events are open enrollment, complying with NCAA bylaws, allowing any and all athletes to participate.  To read more about EXACT's approach to NCAA compliance and how we manage a positive training experience, click here: https://exactsports.com/ncaa-compliant/
My question is not covered here. Is there someone I can speak to at EXACT Sports?

Yes, the best way to reach us is to email us at Director@exactsports.com. We aim to respond to all inquiries within 2 business days (but it is usually much quicker!).