Mid-Atlantic I Girls Multi College ID Camp (Winter 2017)
Heads-up! Select from menu options on the left to learn more about camp!
Event Registration & Details
Unfortunately, registration for this event has been closed. Below is a list of additional events nearby that you can still register for.
Events are loading. Just a few more seconds please!
Gender
State
Event Name
Start Date
Duration
Register Info
Girls
NJ

Northeast (Waldwick, NJ)
Gender: Girls State: NJ
Mon, February 19th 2018
1.4375 Day
RegisterLearn More
Girls
ON

Toronto (ON, CA)
Gender: Girls State: ON
Wed, March 14th 2018
2.4375 Day
RegisterLearn More
Girls
CT
Northeast Girls Academic 50 ID Camp (North Branford, CT)
Gender: Girls State: CT
Sat, July 21st 2018
3.2708333333333 Day
RegisterLearn More
Girls
MA
New England III (Hanover, MA)
Gender: Girls State: MA
Tue, February 20th 2018
1.4375 Day
RegisterLearn More
Girls
GA
Southeast Girls Academic 50 ID Camp (Atlanta, GA)
Gender: Girls State: GA
Mon, July 9th 2018
3.2708333333333 Day
RegisterLearn More
Girls
IL
Midwest Girls Academic 50 ID Camp (Chicago, IL)
Gender: Girls State: IL
Wed, July 18th 2018
3.2708333333333 Day
RegisterLearn More
Mid-Atlantic I Girls Multi College ID Camp
When:
Nov 12 [ 8:00AM - 4:00PM ]
Who:
60 Upperclassmen
(Grades 11th-12th)
60 Underclassmen
(Grades 8th-10th)

All college coaches are confirmed to attend pending the completion of their team's season. The NCAA tournament takes place from mid-November to early-December. While 99% of college teams will have completed the season and attend EXACT camp, teams that advance deep into the tournament will still be active and might not be able to attend that event.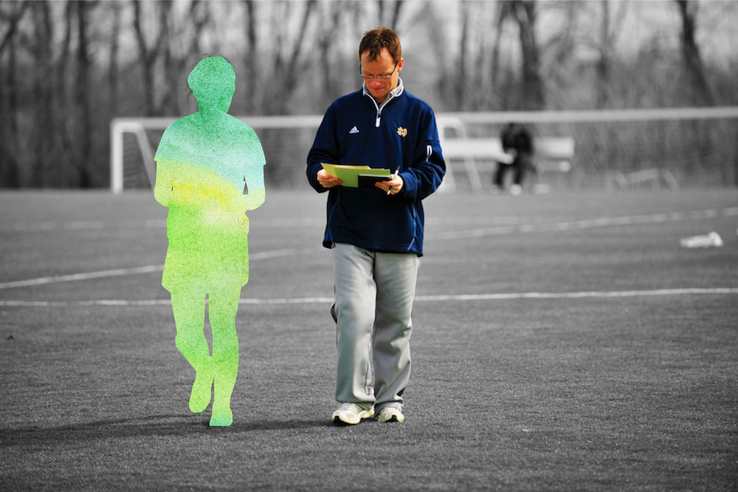 College Coaching
Players are coached on the field by college coaches during morning and afternoon sessions.
Exposure to different coaches is maximized as players train with a variety of coaches throughout camp.
One-on-one interaction between players and coaches is emphasized (on-field training, in the classroom, and even at lunch).
Each player receives a 1-on-1 evaluation from a college coach at the conclusion of camp.
Honest Evaluation
Each player meets 1-on-1 with a college coach to review his evaluation.
Players will get specific feedback on strengths and areas for improvement.
Evaluations are honest and meant to prepare players for the next level!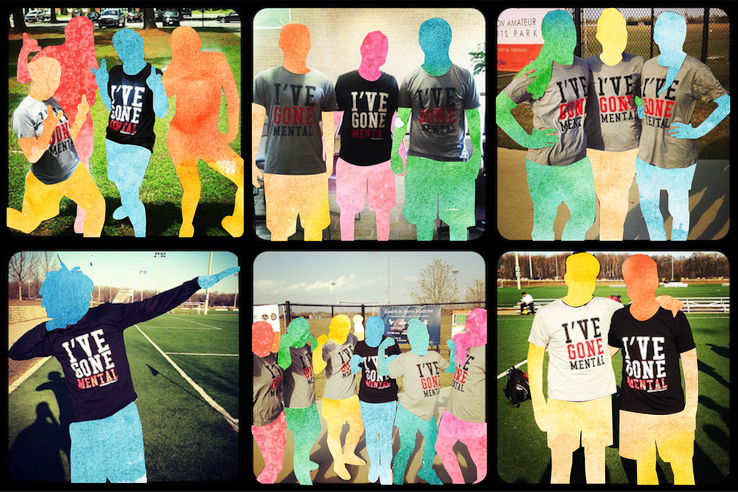 Used by Pros
EXACT provides mental training tools to hundreds of college and professional teams.
Mental Techniques
EXACT's mental techniques help athletes optimize their performance.
Collegiate Attitude
College coaches want players that are mentally tough.
EXACT's mental training sessions give players skills necessary for success at the next level.
---
The #GoMental Movement
By starting the #GoMental movement, EXACT has enabled thousands of current collegiate, professional, and aspiring high school athletes to reach their performance goals. We hope you'll join us so that you can reach your own desired destination.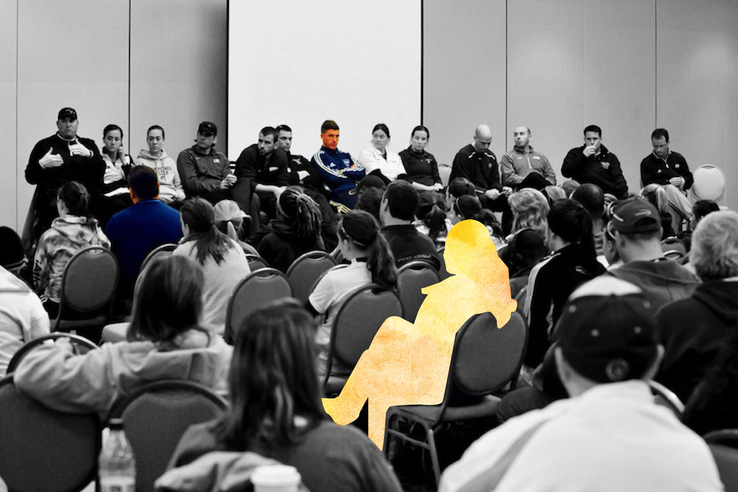 College Recruiting Seminar
Learn how the college recruiting process really works directly from college coaches.
Players and parents will hear from 10-15 coaches from all levels of play and divisions.
Coaches will discuss what they look for in a player, college scholarships, differences between DI, DII, DIII, NAIA, recruiting sites, and much more.
Finding the Right "Fit"
Finding the right "fit" in a college is crucial to success on and off the field.
Coaches will share how academics, culture of a school, location, and more fit into the college decision.
Players will also participate in sessions that focus on identifying what they are looking for in a college experience.
Parents & Players Welcome
Parents are welcome to the College Recruiting Seminar.
Both players and parents are encouraged to ask questions about anything related to the college recruiting process!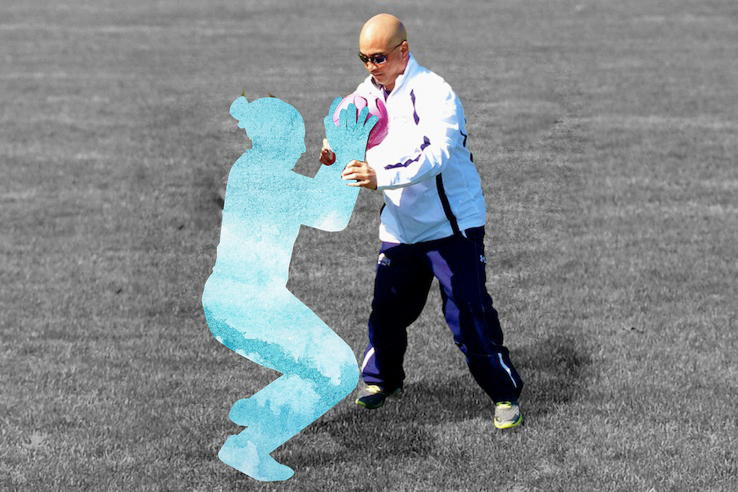 Individualized Instruction
All GKs participate in individual keeper-specific training led by a college GK coach.
Training will focus on all GK skills including footwork, shot stopping, crossing and more.
GKs will get a 1-on-1 evaluation from a college GK coach.
College Coaches
EXACT brings in the top college GK coaches in the country to train 1-on-1 with GKs at camp.
The College GK coach will put players through the same training used with their college teams.
In addition to individual training, GKs will have a chance to play in front of ALL college coaches at camp during games.
In-Game Action
In addition to individual training, GKs also face live action during games.
GKs will have a chance to apply work from training in game situations versus other players.
During games, GKs will have a chance to get exposure to ALL college coaches at camp.
The Most Successful Camp in the Nation
The Best College Programs in the USA
An Unparalleled Showcasing
Recruiting Info and 1-on-1 Evaluations
My daughter, Addy was a participant last year. As a parent, I was completely impressed with the professionalism you and your team demonstrated! I thought the session on how to do a pitch was great, and has proven as invaluable to Addy in college interviews, scholarship interviews and job interviews as it has with coaches. The college coaches' session on D1 and D3 was great, helping to give her more focus on where she wanted to end up. Finally, both the selection of and participation by coaches was far better than we'd anticipated.
Of course, the proof's in the outcome. Addy met all the coaches she'd "targeted," had a number of further contacts, 3 "official visits," and 4 offers. Going in, she told me her dream was to "go to a great school and play for a great coach." Thanks for your part in helping her make that happen.
Thank you again,
John Stearns
Edwards, CO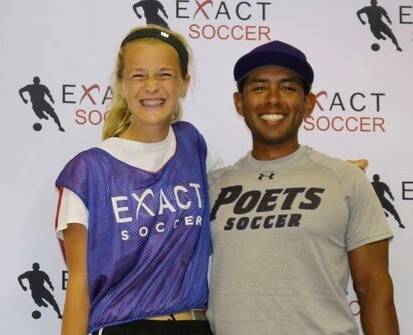 I just wanted to personally thank you for your efforts and enthusiasm in leading the EXACT Girls Academic 50 ID Camp. My daughter Gena attended the camp and it was truly a life changing experience in the best possible way.
We've attended soccer camps at various universities, but this was no ordinary soccer camp experience…it was the "best of the best" and your personal energy also made a big difference with the kids and as a parent, I could even see the difference and impact you had with the coaches and how they responded to your level of energy and excitement.
The quality and access of the coaches that you assembled was the best that we've experienced, but the dynamic of the true education on the college experience/recruiting, Q&A sessions with the coaches (kids and parents) and the "Go Mental Movement" academic aspect of the training was unique and extremely impactful on my daughter.
The Exact Sports soccer program and focus on academics and recruiting aspects that your company organized this weekend was truly special and has made a major impact on Gena, her goals, and pathway to college…THANK YOU!!
We will be back for future Exact Sports programs/camps and again, great work!
-David Hulshof (parent of Gena Hulshof)
My daughter had a great time at the EXACT Academic 50 ID Camp and experienced some fantastic soccer those 3 days!
She is a rising Freshman, and clearly was not there for the same reason as majority of the other girls there, but totally has taken a lot out of the program as she prepares for her coming 4 years.  Your program has opened her eyes to schools she has never thought of attending, since initially she was thinking to stay close to home!  Thanks so much again and keep up to great work.
My daughter "La", has gone mental!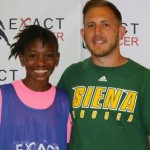 The EXACT SoCal Academic 50 ID Camp exceeded all my expectations, as there really was over 50 college coaches in attendance. The one-on-one time with the college coaches is something that other camps just don't have. It is unique to EXACT and one of the best opportunities I have participated in!
-Haley Ziomek
Olivia Raymond-Williams
Player
I enjoyed the EXACT SoCal Academic 50 ID Camp because I constantly had so many opportunities to talk with over 50 different college coaches and I was able to create relationships with the schools I was interested in. I also really enjoyed the camp because, I learned a lot about recruiting and how I can do more to be recruited in the future
– Olivia Raymond-Williams
Attending EXACT's Academic 50 ID Camp was one of the best experiences I have ever competed in. It really helps you develop a relationship with coaches by teaching you how to introduce yourself, and how to keep in contact. They cover the do's and don't's of the recruitment process. Additionally, the mental training parts are incredible. Really an eye opener! Lastly, you play in front of and learn from over 50 college coaches. It's a great program, and I'll definitely be coming back!
-Paige Karl
Will players have an opportunity to get feedback from college coaches on the coaching staff?

YES! Players begin interacting with college coaches from the moment they arrive at camp. One-on-one interaction is emphasized, as college coaches lead all training and game sessions. There is opportunity for feedback during training sessions, gameplay, lunch, and post camp. Each player will also meet 1-on-1 with a college coach for a formal evaluation at the conclusion of camp.
Are all college coaches listed on the coaching staff actually going to be there?

Yes – EXACT Sports hires all coaches to be on the field instructing and evaluating athletes throughout camp. All coaches listed on the coaching staff are confirmed to participate, instruct, evaluate and get to personally know the players.
What do players need to bring to camp?

Soccer equipment to bring includes soccer clothes, cleats, shin guards, ball, water bottle, socks, goalkeeper gloves*, and GYM SHOES/FLATS.
Is there training for Goalkeepers?

Yes – the EXACT Soccer ID Camp coaching staff always includes college goalkeeper coaches. Each day, goalkeepers will participate in keeper-specific sessions that are designed and led by college goalkeeper coaches.
Is there a trainer on-site at camp?

Yes – there is a Certified Athletic Trainer on-site at all times.
Can parents watch?

Parents are more than welcome to attend any of the sessions throughout the day. This includes, training, afternoon game-play, and informational meetings (parent meeting and recruiting informational session).
What is EXACT's Cancellation Policy?

Because our camps have a limited capacity, we cannot offer refunds to campers who cancel for any reason. However, during registration you may purchase "No Questions Asked" (NQA) cancellation insurance that will allow you to receive a refund in the event that you are unable to attend the camp.

For those that do not purchase NQA cancellation insurance, we are only able to offer you a transfer of your registration fee less a credit transfer fee to cover EXACT's incurred event costs. Transfer fee is 20% (when notified 14+ days out) or 35% (when notified 1-14 days out from camp). The credit will be stored on your account in PrepHero (EXACT's Registration partner) and can be applied to any open EXACT camp within 12 months. There is no credit provided to no-shows at the camp, so please notify us early!

If you are already registered and need to cancel, please go to https://prephero.com/camps/cancel and login using the account created during registration. Click here to learn about our weather policy. For additional information email director@exactsports.com.
Is the EXACT Camp compliant with NCAA rules and bylaws?

Yes, EXACT takes great care in ensuring compliance with NCAA rules, as college coaches are interacting and training with players on the field. In accordance with NCAA rules, EXACT camps are open to any and all that would like to attend, but may limit attendance based on several factors, such as age, number and grade level. however, camp attendance at EXACT is never restricted by a camper's skill level or competitive experience.

More information on NCAA compliance can be found here: https://exactsports.com/ncaa-compliant/
Is this an open enrollment camp?

Yes, all EXACT events are open enrollment, complying with NCAA bylaws, allowing any and all athletes to participate.  To read more about EXACT's approach to NCAA compliance and how we manage a positive training experience, click here: https://exactsports.com/ncaa-compliant/
My question is not covered here. Is there someone I can speak to at EXACT Sports?

Yes, the best way to reach us is to email us at Director@exactsports.com. We aim to respond to all inquiries within 2 business days (but it is usually much quicker!).